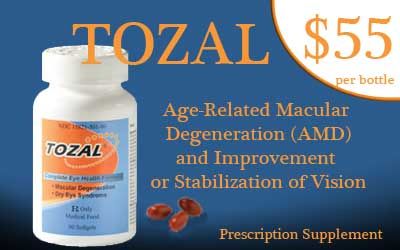 Tozal
TOZAL


The first prescription supplement proven effective in peer-reviewed clinical trials and includes the nutrients in the AREDS, AREDS 2, and TOZAL studies.
Daily dose is 3 easy to swallow softgels.
TOZAL has all the high potency antioxidants and zinc important to eye health, plus the added benefit of:
lutein (loo'-teen),
zeaxanthin (zee-uh-zan'-thin)
omega-3 fatty acids.
Reviews